round table package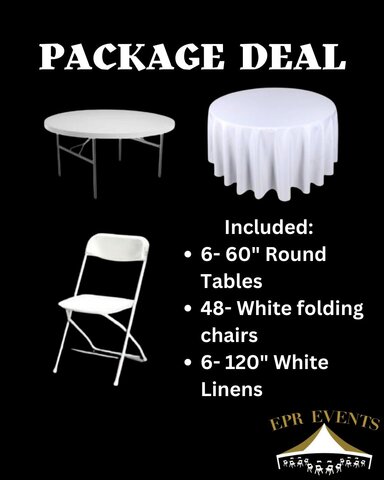 Description
Introducing our Round Table Package, the perfect addition to any gathering or event. Crafted with precision and designed for both elegance and functionality, this package offers everything you need to create a stylish and inviting atmosphere.
Our round table is expertly constructed from high-quality materials, ensuring durability and stability. Its sleek design and smooth finish add a touch of sophistication to any space. With a generous diameter, this table comfortably accommodates a group of people, making it ideal for family dinners, corporate meetings, or social gatherings.
The Round Table Package also includes a set of matching chairs that perfectly complement the table's aesthetic. These chairs are ergonomically designed for maximum comfort, allowing your guests to relax and enjoy their time together.
In addition to its visual appeal, this package offers practical features that make it a versatile choice. The table's surface is easy to clean, making maintenance a breeze. Its sturdy construction ensures that it can withstand the rigors of everyday use, ensuring years of reliable service.
Whether you're hosting a formal dinner party, a casual brunch, or a business conference, our Round Table Package is the ideal solution. With its timeless design, superior quality, and versatility, it is sure to impress your guests and elevate the ambiance of any space.