Metal Water Dispenser with Tray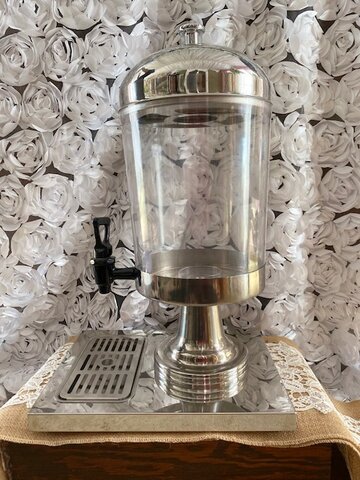 Description
This tray is designed to catch any spills or drips, keeping your surrounding area clean and tidy.
With its user-friendly design, this water dispenser is incredibly easy to operate. Simply fill the reservoir with your preferred cold water and press the button to dispense. The adjustable water flow allows you to choose the perfect amount of water for your needs, whether it's a quick sip or a full glass.
Not only does this dispenser provide refreshing water at your fingertips, but it also adds a touch of elegance to your space. The sleek metal finish complements any decor, adding a modern and sophisticated for your Event.
NOTICE: All Tableware must be returned rinsed, free of any food debris or liquids. A $.25 Cleaning Fee will be chargered to any tablewear item not rinsed. Deep cleaning is not required. All tablewear must be packaged back in crates, racks, and totes provide.