Fruitwood Folding Chairs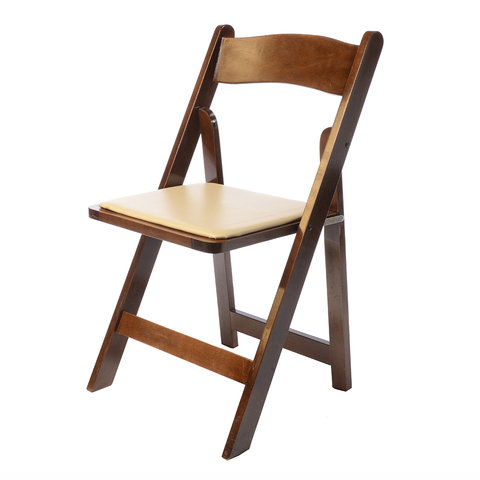 Description
Our Fruitwood Folding Chair w/ Ivory Padding for comfort.
Great for Weddings, Receptions,Corperate Events.
Measures: 15" long x 15" wide x 30" tall.Seat is 17" high and 14" deepIntroducing our Fruitwood Folding Chairs, the perfect combination of elegance and functionality for any event or gathering. These chairs are crafted from high-quality fruitwood, renowned for its durability and natural beauty.
Video link of our fruitwood chairs: https://youtube.com/shorts/oIlM-bZoBGA
Designed with both style and comfort in mind, our Fruitwood Folding Chairs feature a sleek yet classic design that effortlessly complements any decor. The warm, rich tones of the fruitwood add a touch of sophistication to any space, making them ideal for weddings, parties, banquets, or even everyday use.
The solid wood frame ensures stability and strength, while the contoured seat and backrest provide optimal comfort for extended periods of sitting. Additionally, the chairs are finished with a protective coating that enhances their longevity and resistance to wear and tear.