Cornhole game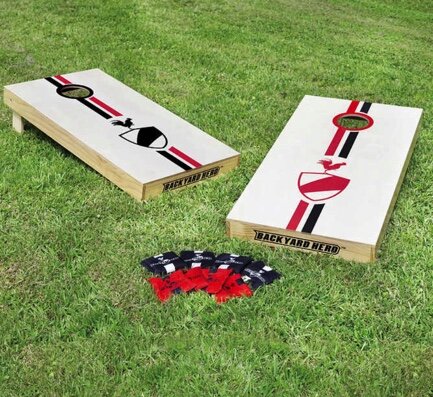 Description
Introducing our classic Cornhole Game, the perfect addition to any outdoor gathering or backyard party! Made with durability and fun in mind, this game is designed to provide hours of entertainment for players of all ages.
Crafted with high-quality materials, our Cornhole Game features two sturdy wooden boards with smooth surfaces for optimal gameplay. Each board is meticulously painted with vibrant colors and a sleek finish, ensuring a visually appealing and professional look.
The set includes eight premium bean bags, four in one color and four in another, allowing for exciting team competitions or friendly one-on-one matches. These bean bags are filled with a special blend of recycled plastic pellets, ensuring the perfect weight and balance for accurate throws.
Whether you're a seasoned Cornhole player or a beginner looking to have some outdoor fun, our Cornhole Game is sure to provide endless entertainment and friendly competition. So gather your friends and family, and get ready for some unforgettable moments with this classic game that never goes out of style!