40x39 White Dance Floor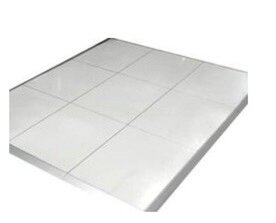 Description
Introducing our stunning 40x39 White Dance Floor, the perfect addition to elevate any event or celebration. This sleek and contemporary dance floor is designed to create a dazzling atmosphere that will leave your guests in awe.
Crafted with precision and attention to detail, our 40x39 White Dance Floor features a pristine white finish that adds elegance and sophistication to any space. Its spacious dimensions provide ample room for guests to showcase their dance moves and enjoy a night filled with fun and excitement.
Constructed using high-quality materials, this dance floor is built to withstand heavy foot traffic and ensure a smooth dancing experience. Its sturdy interlocking panels ensure stability and prevent any slipping or sliding, allowing everyone to dance with confidence and ease.
Whether you're hosting a wedding, corporate event, or any special occasion, our 40x39 White Dance Floor is the perfect choice to set the stage for an unforgettable experience. Its versatile design allows for seamless integration into any venue or theme, making it a versatile and adaptable addition to your event decor.
ATT: DANCE FLOORS Planning to be setup on DIRT an additinal will be Charged for us to bring Artifical Turf and for the inital surraounding area of the Dance Floor.

ADDITION: Dance floor decal- $5/ sq ft- need 4 weeks in advance notification
- Please call the office