30' Round Cocktail Table 42" tall Seats 2-4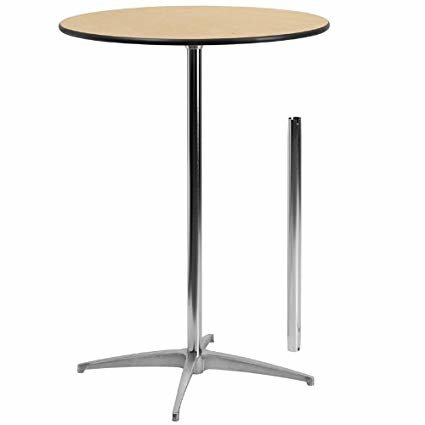 Description
Our round cocktail table features a bar height steel column and a sturdy plywood top. This is a very popular and high demand product!
Commonly used in Weddings, Bars, Pubs, Corporate Events, Fundraisers, and Galas.
This is a table that can easily be decorated to fit your color scheme and/or theme.
This table works well in both outdoor and indoor settings.
30' Round Cocktail Table 42" tall Seats 2-4

Introducing our stylish and versatile 30' Round Cocktail Table, designed to elevate any event or gathering. With a height of 42", this table is perfect for creating an inviting and intimate atmosphere.
Crafted with precision and durability in mind, our cocktail table is made from high-quality materials that guarantee long-lasting performance. The sturdy construction ensures stability, allowing your guests to comfortably enjoy their drinks and conversations.
Featuring a spacious 30' round tabletop, this table provides ample space for drinks, appetizers, and other essentials. Whether you're hosting a small gathering or a larger event, this table can comfortably accommodate 2-4 guests, making it ideal for intimate conversations or cozy gatherings.
The sleek and modern design of our cocktail table effortlessly blends with any decor style, adding a touch of sophistication to your space. Its compact size makes it easy to move and store, providing convenience for both indoor and outdoor settings.
Elevate your next event with our 30' Round Cocktail Table. Its versatility, durability, and stylish design make it the perfect addition to any occasion, ensuring a memorable experience for you and your guests.