24X24 White Dance Floor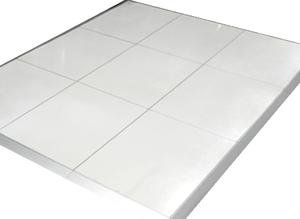 Description
Area Sq ft: 576
Size of the party: 285-324
Number of dancers: 96
Introducing our stunning 24x24 White Dance Floor, the perfect addition to elevate any event or celebration. Crafted with meticulous attention to detail, this dance floor exudes elegance and sophistication.
Designed to impress, the pristine white surface of this dance floor creates a visually captivating focal point. Its sleek and seamless finish ensures a seamless flow, allowing your guests to dance the night away in style.
Constructed from high-quality materials, this dance floor is both durable and sturdy, capable of withstanding the energetic movements of dancers. Its anti-slip surface provides a safe environment for everyone, ensuring worry-free enjoyment throughout the event.
ATT: DANCE FLOORS canot be set up on Dirt or Gravel.