21x 24 White Dance Floor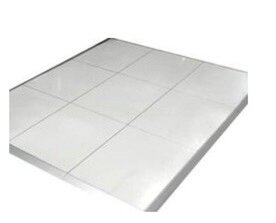 Description
Introducing our stunning 21x24 White Dance Floor, designed to add elegance and sophistication to any event. Whether you're hosting a wedding, corporate function, or any other special occasion, this dance floor is the perfect addition to create an unforgettable experience for your guests.
Crafted with the highest quality materials, our 21x24 White Dance Floor is not only visually appealing but also durable and long-lasting. The pristine white surface is sleek and smooth, providing a seamless platform for your guests to dance the night away.
With its generous size of 21x24 feet, this dance floor offers ample space for your guests to showcase their moves and enjoy the festivities. The large dimensions ensure that everyone can join in the fun, creating a vibrant and energetic atmosphere.