21x21 White Dance Floor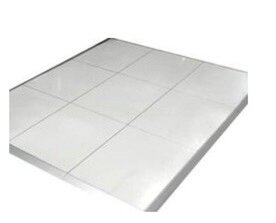 Description
Introducing our stunning 21x21 White Dance Floor, the perfect addition to elevate any event or celebration. Made with high-quality materials, this dance floor is designed to provide a sleek and elegant look while ensuring a safe and comfortable dancing experience for your guests.
With its spacious dimensions of 21x21 feet, this dance floor offers ample space for guests to showcase their moves and enjoy the rhythm of the music. Its pristine white color adds a touch of sophistication and versatility, making it suitable for a wide range of themes and decor styles.
ATT: DANCE FLOORS Planning to be setup on DIRT an additinal will be Charged for us to bring Artifical Turf and for the inital surraounding area of the Dance Floor.

ADDITION: Dance floor decal- $5/ sq ft- need 4 weeks in advance notification
- Please call the office