15x15 Dance Floor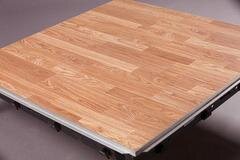 Description
Introducing our stunning 15x15 Dance Floor, the perfect addition to any event or celebration!
With its sleek and glossy finish, this dance floor is designed to make a statement and create an unforgettable atmosphere. Whether it's a wedding, corporate event, birthday party, or any special occasion, our dance floor will elevate the ambiance and get everyone on their feet.
The 15x15 size provides ample space for guests to show off their dance moves and enjoy the music. Its sturdy construction ensures a stable and secure surface, allowing dancers of all ages and skill levels to feel comfortable and confident.
Our dance floor is easy to install and dismantle, making it convenient for both indoor and outdoor events. It is also resistant to scratches, spills, and stains, ensuring that it maintains its pristine appearance throughout the entire event.