12x16 White Dance Floor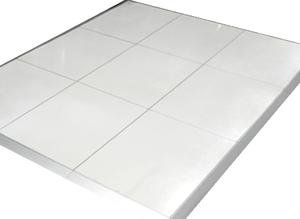 Description
Introducing our 12x16 White Dance Floor, the perfect addition to any event or venue looking to create a stylish and elegant atmosphere. This dance floor is designed to elevate your space and provide a stunning focal point for guests to dance the night away.
Crafted with precision and attention to detail, our 12x16 White Dance Floor features a sleek and glossy white finish that exudes sophistication. The clean and crisp appearance complements any color scheme or theme, making it versatile for weddings, parties, corporate events, and more.Measuring 12x16 feet, this dance floor offers ample space for guests to showcase their moves. Whether you have a small gathering or a large celebration, this size can comfortably accommodate a significant number of dancers, ensuring everyone can join in on the fun.
ATT: DANCE FLOORS Planning to be setup on DIRT an additinal will be Charged for us to bring Artifical Turf and for the inital surraounding area of the Dance Floor.


ADDITION: Dance floor decal- $5/ sq ft- need 4 weeks in advance notification
- Please call the office