10x40 Naked Draped Canopy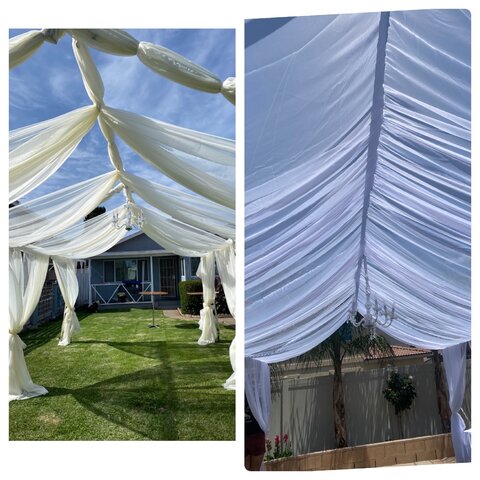 Description
Right side: open airy feel, sky exposed, less shade
Left side: less sky exposed, flowy feel and more shadePlease keep in mind that the naked canopy style does not provide the best sun coverage. Please pick which style you prefer in the comment section found when placing the order.
Includes:
- Top (roof)
-Drapery
-a Chandelier
-Installation
( Side walls Front & Back Walls are additinal )
NOTE: Additional Chadelier are an extra cost.
Special instructions:
* We Do NOT set up Full Draped or Naked Draped Canopies on dirt*
*setup area needs to be clear of any furniture, trees & tree branches, electrical wires and any items that might prevent the installation.
*customer is responsible to measure the setup area and to make sure the canopy fits perfect.
- Top