medium silver package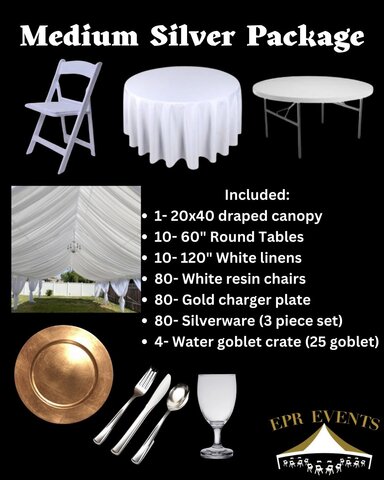 Description
Introducing our Medium Party Package with Chargers and Table Settings! This all-inclusive package is perfect for hosting intimate gatherings, birthdays, or special occasions at home. With our high-quality chargers and stylish table settings, you can create a beautiful and inviting atmosphere that will impress your guests.
Our package includes a set of elegant chargers that will add a touch of sophistication to your table setting. Made from durable materials, these chargers not only enhance the overall look but also protect your table from spills and stains. Available in various colors and designs, you can choose the one that complements your party theme or personal style.
In addition to the chargers, our Medium Party Package also includes complete table settings for your convenience. Each setting consists of forks, knives, and spoon utensils, ensuring that your guests have everything they need for a delightful dining experience. Made from premium materials, our table settings are not only aesthetically pleasing but also durable and easy to clean.
Whether you are hosting a formal dinner or a casual gathering, our Small Party Package with Chargers and Table Settings is designed to elevate your event. It saves you time and effort by providing all the essential elements for a beautifully set table. With our package, you can focus on enjoying the company of your loved ones and creating lasting memories.
Don't settle for ordinary table settings when you can have a stunning display with our Small Party Package. Contact us today to book this package for your upcoming event and make it a truly unforgettable experience for you and your guests.
ium