medium gold package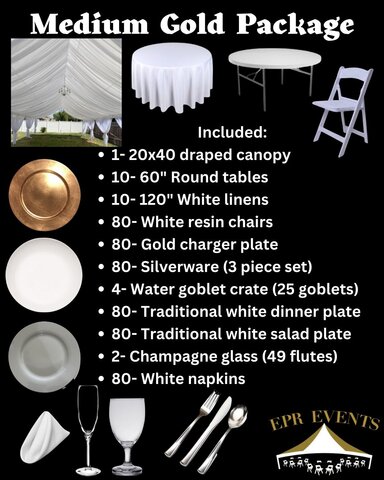 Description
Introducing our exquisite collection of tables and chairs, designed to elevate any event to new heights of sophistication and comfort. Whether you are hosting a glamorous wedding reception, a corporate seminar, or a casual backyard gathering, our tables and chairs are the perfect choice to create an inviting and stylish atmosphere.
Crafted with meticulous attention to detail, our tables feature sturdy construction and sleek designs that blend seamlessly with any decor. From round tables that encourage conversation to rectangular tables that maximize space, we offer a variety of sizes and shapes to suit your specific needs. Our tables are made from high-quality materials, ensuring durability and longevity, even with heavy use.
To complement our tables, we offer a wide selection of chairs that combine elegance and ergonomic design. From classic banquet chairs to modern and trendy options, our chairs provide exceptional comfort without compromising on style. With a range of colors and upholstery options available, you can effortlessly match your chairs to your event theme or branding.
In addition to their aesthetic appeal, our tables and chairs are designed with practicality in mind. They are easy to set up and dismantle, allowing for hassle-free event planning and quick transitions between different layouts. Their lightweight nature makes them portable, enabling you to effortlessly rearrange your event space as needed.
At EPR Events, we prioritize customer satisfaction, which is why we offer competitive pricing without compromising on quality. Our dedicated team is committed to providing exceptional service and ensuring that your event is a resounding success.
Elevate your next event with our exquisite tables and chairs. Contact us today to discuss your requirements and let us help you create a memorable and stylish setting that will leave a lasting impression on your guests.