medium bronze package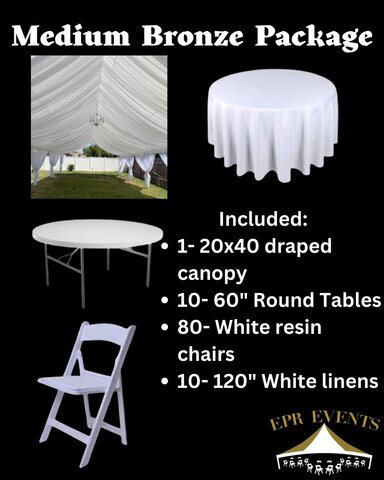 Description
Introducing our exquisite Medium Bronze Package, a perfect addition to any special event or outdoor gathering. This elegant canopy package offers both functionality and style, providing a stunning focal point that will leave your guests in awe.
Crafted with meticulous attention to detail, our draped canopy features a sturdy frame made from durable materials, ensuring stability and longevity. The canopy is expertly designed to protect you and your guests from the elements, offering shade from the scorching sun or shelter from unexpected rain showers.
The draped canopy package includes a beautifully designed canopy cover, available in a range of colors and patterns to suit your event theme. The flowing drapes create an enchanting ambiance, adding a touch of elegance to any occasion. Whether you're hosting a wedding, birthday party, corporate event, or any other special gathering, our draped canopy package is guaranteed to elevate the atmosphere and leave a lasting impression.
Easy to order the neccessary items, our canopy package is designed with convenience in mind. With linens and all necessary items included, you can effortlessly transform any outdoor space into a captivating venue. The sturdy design allows for easy transportation, making it ideal for outdoor events.
Not only does our draped canopy package provide a stunning visual appeal, but it also offers practicality. The spacious interior provides ample room for seating arrangements, buffet tables, or any other event essentials. It also ensures excellent air circulation, keeping your guests comfortable throughout the event.
Choose our Draped Canopy Package and create an unforgettable experience for your guests. With its combination of elegance, functionality, and ease of use, this canopy package is the perfect choice for any event. Don't settle for ordinary when you can have extraordinary – elevate your event with our Draped Canopy Package today