gold table settings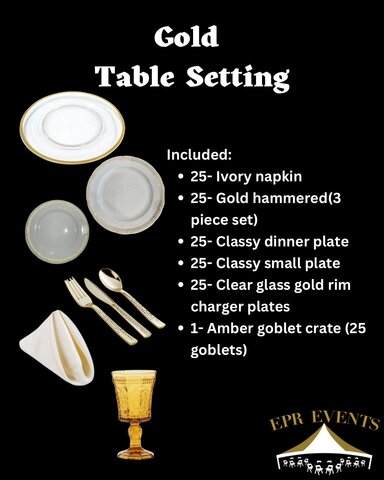 Description
Introducing our exquisite gold table settings, the perfect choice to elevate any dining experience. Crafted with precision and attention to detail, these stunning pieces will add a touch of elegance and sophistication to your table.
Each gold table setting is made from premium quality materials, ensuring durability and longevity. The lustrous gold finish exudes opulence, making it an ideal choice for formal occasions, weddings, or special celebrations.
Our gold table settings include a complete set of essentials, including dinner plates,and salad plates. Each piece is meticulously designed with a sleek and modern aesthetic, complementing any table decor or theme.
The luxurious gold hue beautifully contrasts with any color scheme, allowing you to create a truly personalized and captivating table setting. Whether you prefer a classic and timeless look or a contemporary and bold design, our gold table settings effortlessly adapt to your style preferences.
Not only do these table settings excel in aesthetics, but they are also highly practical. The smooth and glossy surface is easy to clean, saving you time and effort after the event. Additionally, the sturdy construction ensures that these table settings can withstand everyday use without compromising their elegance.
Impress your guests and create unforgettable dining experiences with our gold table settings. Elevate your next gathering to new heights of sophistication and style. Explore our collection today and discover the perfect gold table setting that will leave a lasting impression.