Dusty blue Table setting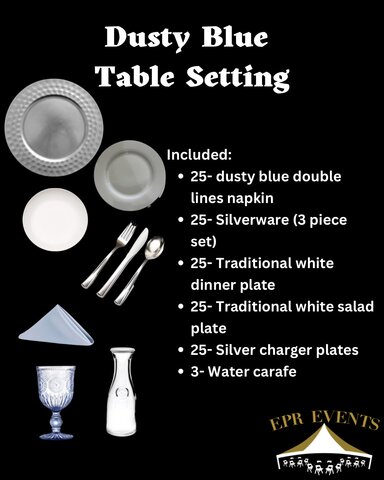 Description
Introducing our elegant Dusty Blue Table Setting, a perfect choice for adding a touch of sophistication to your dining experience. Crafted with meticulous attention to detail, this exquisite table setting will elevate any occasion, from intimate dinners to grand celebrations. Its soft and subtle hue adds a touch of tranquility, making it an ideal choice for both formal and casual settings.
Complementing the dusty blue water goblet, our set features elegant dusty blue napkins, able to be expertly folded and ready to impress your guests. Made from high-quality cotton, these napkins are not only visually appealing but also durable.To complete the look, we have included a set of exquisite silver dinnerware. Each piece is carefully designed with a delicate pattern that adds a touch of sophistication to your table. The plates, chargers, and goblets, are made from premium materials, ensuring long-lasting quality and a refined dining experience.
Whether you are hosting a dinner party or simply enjoying a meal with your loved ones, our Dusty Blue Table Setting will undoubtedly set the stage for an unforgettable dining experience. Elevate your table decor with this timeless and elegant choice, and create lasting memories for years to come. Used commonly in weddings, bridal showers, baby showers, gender reveals, engagement parties, and more!