White Flower Lace Round Table Linen 120" (Fits Our 60in Round Table to the Floor)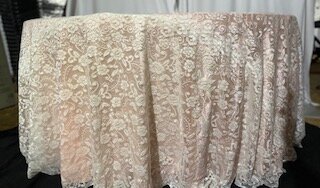 Description
Introducing our exquisite White Flower Lace Round Table Linen, a perfect addition to elevate the elegance of any event or gathering. Crafted with meticulous attention to detail, this table linen is designed to fit our 60-inch round table, effortlessly reaching the floor for a seamless and polished look.
The delicate white flower lace pattern adds a touch of sophistication and charm to your table setting, creating a romantic and inviting atmosphere. The intricate lacework is carefully woven, showcasing the intricate floral motifs that exude timeless beauty.
Made from high-quality materials, this table linen is not only visually stunning but also durable and long-lasting. The premium fabric ensures a smooth and luxurious feel, providing a comfortable dining experience for your guests.