6ft Velvet Rope (Red)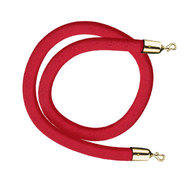 Description
Our Heavy Duty Red Velvet Hanging Rope also a very Beautiul Ideal Choice of High quality ,Durability & Luxury rope, 72 inches long
Introducing our 6' Red Stanchion Rope, a perfect addition to elevate the ambiance and crowd control of any event or venue. Crafted with durability and style in mind, this stanchion rope is designed to withstand heavy usage while adding a touch of elegance to your space.
Made from high-quality materials, the vibrant red color of the rope is guaranteed to catch the attention of your guests and guide them in an orderly manner. The 6-foot length provides ample space for creating clear and defined lines, ensuring smooth crowd management and preventing any confusion or chaos.
Featuring a sturdy metal clip on each end, this stanchion rope effortlessly attaches to any compatible stanchion post, allowing for easy setup and flexibility in configuration. Whether you need to create a barrier for VIP areas, queue lines, or simply want to add a touch of sophistication to your space, this rope is a versatile solution.