LED Bar Stool ( per stool)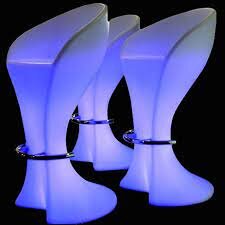 Description
Awsome LED Bar Stooll. Red, Blue, Green Stools Only
Introducing our stylish LED Barstool, a perfect addition to any Event. This sleek and contemporary barstool not only provides comfortable seating but also adds a vibrant touch to your decor with its built-in LED lighting.
Crafted with utmost precision, our LED Barstool features a sturdy frame made from high-quality materials, ensuring durability and long-lasting performance. The ergonomic design of the seat provides optimal comfort, allowing you and your guests to relax and unwind while enjoying a drink or meal.
What sets our LED Barstool apart is its mesmerizing LED lighting feature. With a variety of vibrant colors and lighting effects to choose from, you can easily create the perfect ambiance for any occasion. Whether you're hosting a party, or enhancing the atmosphere in your bar area this LED Barstool will surely impress your guests.