Hexagon draped Arch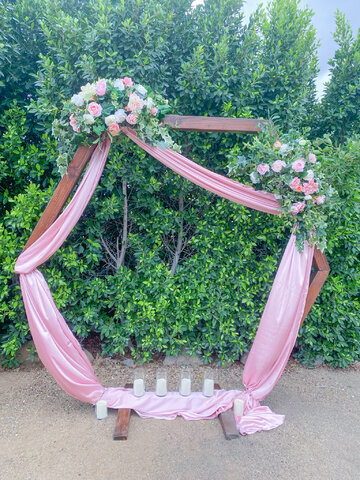 Description
Choose color of artifical flowers and drpaing in the comment secion at check out!
Introducing the stunning Hexagon Draped Arch, a truly unique and eye-catching addition to any event or special occasion. This exquisite arch is designed to elevate the ambiance and create a memorable experience for guests.
Crafted with precision and attention to detail, the Hexagon Draped Arch features a six-sided structure, creating a modern and contemporary look. Its geometric design adds a touch of sophistication and elegance to any setting, making it the perfect backdrop for weddings, parties, corporate events, or photo shoots.
The arch is expertly draped with high-quality fabric, which adds a soft and romantic touch. The flowing drapes create a sense of movement and ethereal beauty, enhancing the overall aesthetic appeal of the arch. The fabric is available in a variety of colors, allowing you to customize the arch to match your event's theme or color scheme.
Not only is the Hexagon Draped Arch visually stunning, but it is also highly versatile. Its sturdy construction ensures stability, making it suitable for both indoor and outdoor use. Whether you want to create a breathtaking entrance, a focal point for your ceremony, or a picturesque background for capturing cherished moments, this arch is the perfect choice.
Setting up the Hexagon Draped Arch is a breeze, thanks to its lightweight design and easy assembly. It can be effortlessly transported and assembled by a single person, saving you time and effort during event setup.
Add a touch of elegance and sophistication to your next event with the Hexagon Draped Arch. Its unique design, high-quality craftsmanship, and versatility make it a must-have for event planners, photographers, and anyone looking to create a memorable experience for their guests.