Fuchsia Round Table Linen 108" (Fits Our 48in Round Table to the Floor)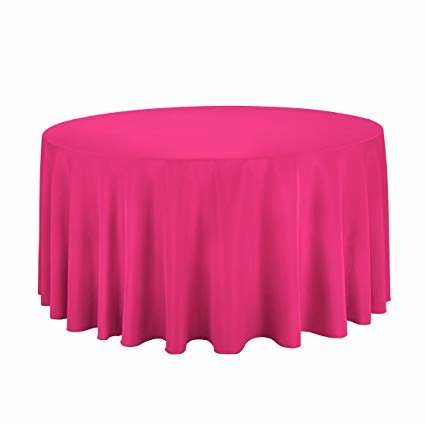 Description
Introducing our elegant Fuchsia Round Table Linen, a perfect addition to elevate the ambiance of any event or occasion. Crafted with meticulous attention to detail, this 108" linen is specifically designed to fit our 48" round table, gracefully draping down to the floor.
Whether you are hosting a wedding reception, a formal dinner, or any other special event, this round table linen will effortlessly transform your table into a focal point of elegance. The rich fuchsia hue adds a pop of color, allowing you to create a visually stunning and unforgettable experience for your guests.
Not only does our Fuchsia Round Table Linen enhance the aesthetic appeal of your table, but it also offers practicality. The full coverage design ensures that the table legs are completely hidden, providing a seamless and polished look. Additionally, the durable fabric is easy to clean and maintain, making it a convenient choice for busy event planners and hosts.
Upgrade your table decor with our Fuchsia Round Table Linen and let it be the centerpiece of your next event. Its perfect fit, attention to detail, and vibrant color will undoubtedly leave a lasting impression on your guests.