Eiffel Tower Vase 25"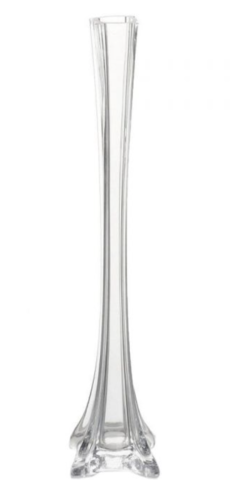 Description
Introducing our exquisite Eiffel Tower Vase, standing tall at 25 inches. Inspired by the iconic landmark in Paris, this vase beautifully captures the elegance and grandeur of the Eiffel Tower.
Crafted with precision and attention to detail, this vase is made from high-quality glass that is both durable and visually stunning. Its slender and graceful silhouette mimics the intricate lattice structure of the Eiffel Tower, creating a unique and eye-catching centerpiece for any occasion.
The 25-inch height of this vase provides ample space to showcase your favorite floral arrangements, whether it be vibrant bouquets, delicate roses, or elegant lilies. Its narrow neck and flared base offer stability and balance, ensuring that your flowers stay securely in place.