Champagne Rustic Wall 7ft tall x 6ft wide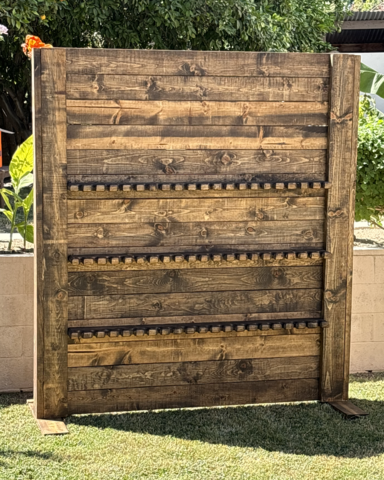 Description
Introducing the Champagne Rustic Wall, the perfect addition to elevate your event or home decor. Standing tall at 7 feet and spanning 6 feet wide, this exquisite piece is designed to impress. Crafted with meticulous attention to detail, this Champagne Rustic Wall is not only functional but also adds a touch of elegance to any space.
Featuring a sturdy construction, this wall is specifically designed to hold up to 49 champagne glasses securely. Whether you are hosting a grand celebration, a wedding reception, or simply want to showcase your collection of champagne glasses, this wall provides the ideal solution.
The Champagne Rustic Wall boasts a charming rustic design that effortlessly blends with various interior styles. Its timeless appeal makes it a versatile choice for both contemporary and traditional settings. Crafted from high-quality materials, this wall ensures durability and longevity, allowing you to enjoy its beauty for years to come.
With its spacious design, this wall offers ample storage space for your champagne glasses, keeping them organized and easily accessible. Say goodbye to cluttered countertops and hello to a stylish, clutter-free space.
Not only does the Champagne Rustic Wall provide a practical storage solution, but it also serves as a stunning visual centerpiece. Its elegant design and attention to detail make it a focal point in any room, leaving a lasting impression on your guests.
Upgrade your space with the Champagne Rustic Wall and experience the perfect blend of functionality and aesthetics. Transform your event or home into a sophisticated haven with this exquisite piece. Order now and elevate your champagne glass display to new heights of elegance.