8ft- Rectangular Tables - (seats 8 to 10 people)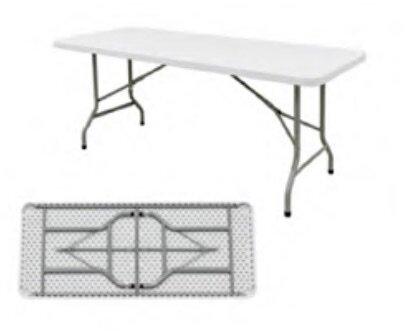 Actual Size: 96" long x 30" wide x 30" h
Description
Our regular 8ft rectangular tables is 96" long x 30" wide x 30" h
These tables seats 8 to 10 people.
The legs fold up to the base of the table.
Our 8ft rectangular tables are the perfect addition to any event or gathering where you need ample seating for 8 to 10 people. These tables are designed to provide a spacious and comfortable dining experience for your guests.
Crafted with high-quality materials, our 8ft rectangular tables are sturdy and durable, ensuring they can withstand the demands of frequent use. The sleek and modern design of these tables adds an elegant touch to any setting, making them suitable for both formal occasions and casual get-togethers.
With enough space to comfortably seat 8 to 10 people, these tables are ideal for large family gatherings, corporate events, weddings, or any other occasion where you need to accommodate a sizable group. The rectangular shape allows for easy arrangement and placement, making it convenient to set up a cohesive and organized seating arrangement.
Whether you are hosting a dinner party, a conference, or a banquet, our 8ft rectangular tables provide the perfect solution for your seating needs. The spacious surface area allows for ample room to place food, drinks, and other items, ensuring that your guests have everything they need within reach.
Don't compromise on comfort and style when it comes to seating arrangements. Invest in our 8ft rectangular tables and create a welcoming and functional space for your guests.
*Setup and breakdown is not included, can be added for
an additional fee.