72" Round Table( seats 10 to 12 people)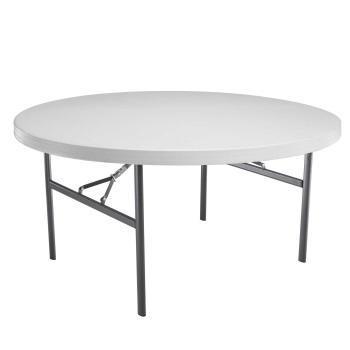 Description
Looking to add elegance and functionality to your next event? Look no further than our 72" Round Table Rental. This stunning table is the perfect centerpiece for weddings, banquets, conferences, and other special occasions.

72' Round Table Fits 10-12
Full Linen Size 132'
Half Linen Size 120'
Introducing our stunning 72" Round Table, the perfect centerpiece for any gathering. Designed to comfortably seat 10 to 12 people, this table combines elegance and functionality to create a memorable dining experience.
Crafted with precision and attention to detail, our 72" Round Table boasts a spacious surface area that allows guests to dine and socialize comfortably. Whether it's a family dinner, a corporate event, or a wedding reception, this table provides ample space for everyone to gather around and enjoy each other's company.
Made from high-quality materials, this table is built to last. The sturdy construction ensures stability, while the smooth finish adds a touch of sophistication to any setting. Its timeless design seamlessly blends with any decor, making it a versatile addition to your home or event venue.
Not only does our 72" Round Table accommodate a large number of guests, but it also encourages conversation and a sense of togetherness. The round shape eliminates the hierarchy often associated with rectangular tables, allowing everyone to engage in lively discussions without feeling excluded. Looking to add elegance and functionality to your next event? Look no further than our 72" Round Table Rental. This stunning table is the perfect centerpiece for weddings, banquets, conferences, and other special occasions.