30" Short Round Cocktail Table (30" tall) Seats 2-4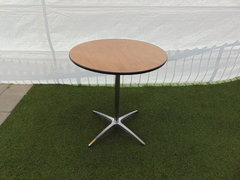 Description
The 30" Short Round Cocktail Table is the perfect addition to any event or gathering. With its sleek and modern design, this table is not only functional but also adds a touch of elegance to any space.
Standing at 30" tall, this cocktail table is the ideal height for comfortably seating 2-4 people. Whether you are hosting a small dinner party or a casual get-together with friends, this table provides ample space for drinks, appetizers, or even a cozy meal.
Crafted from high-quality materials, this table is sturdy and durable, ensuring that it will withstand the test of time. Its round shape allows for easy conversation and interaction among guests, creating a warm and inviting atmosphere.
The 30" Short Round Cocktail Table is versatile and can be used in various settings, such as homes, bars, restaurants, or even outdoor events. Its compact size makes it easy to move and store when not in use, making it a practical choice for those with limited space.
Enhance your space with the 30" Short Round Cocktail Table and enjoy its functionality and style. Whether for personal use or for commercial purposes, this table is sure to impress your guests and elevate any occasion.