28x30 dance floor (AP)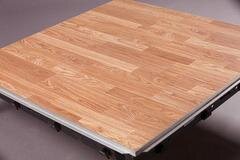 Description
Introducing our stunning 28x30 dance floor, the perfect addition to any event or venue. Crafted with precision and designed with elegance, this dance floor is sure to impress your guests and create an unforgettable experience.
Measuring 28x30 feet, this spacious dance floor provides ample room for dancers to showcase their moves and groove to the rhythm. Whether it's a wedding reception, corporate event, or a lively party, this dance floor is versatile enough to cater to any occasion.
Constructed with high-quality materials, our dance floor ensures durability and stability, allowing your guests to dance with confidence. The sleek and polished surface not only enhances the aesthetic appeal but also provides a smooth and comfortable dancing experience.